Summer Means Festival Season in The Comox Valley
Posted: Jun 27, 2019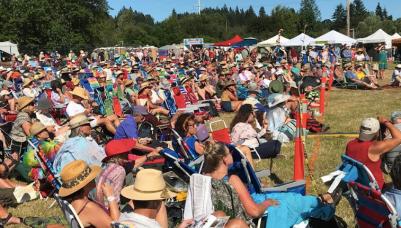 Living at The Ridge in Courtenay in the Comox Valley on Vancouver Island offers residents a large variety of summer music festivals to keep you entertained close to home. You will be delighted to attend one of these popular events to hear a variety of music from local, Canadian and international artists, including:
Vancouver Island Musicfest in Courtenay from July 12 to 14, one of the biggest music festivals on Vancouver Island;
The Filberg Festival in Comox from August 2 to 4, combines a music festival featuring exceptional Canadian talent and handcrafted products by 135 talented artisans;
The Hornby Festival is on Hornby Island from August 1 to 10 and features world-class and classical music.
All of these festivals take place in close proximity to The Ridge. Imagine living here and having just a quick drive to any of these amazing music events. Take in a single day of a festival or attend for the weekend. Whatever venue you choose, you will love the experience!
Residents at the Ridge in Courtenay enjoy an outstanding opportunity to enjoy the lifestyle that makes Vancouver Island so popular. From outdoor pursuits to arts and culture, you will find it all in the Comox Valley. The Ridge is one of Courtenay's most popular neighbourhoods and is located in south Courtenay featuring views of the ocean, mountains and the Comox Glacier.
We have recently released new lots for sale in Phase 3 at The Ridge. For more information, Contact: Bruce Clapham at 250.650.8588 or Email:theridge.bruce@mail.com
Related Resources & Links