Ocean Views and Luxury Living Define The Gales in Ladysmith
Posted: Mar 10, 2016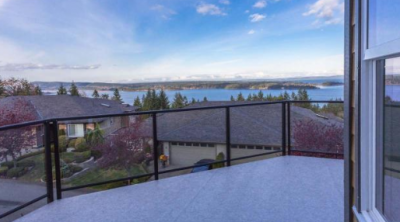 With ocean views, luxury finishes and a commitment to the environment, homeowners at The Gales are living the ultimate Vancouver Island lifestyle. Now is your chance to own your own luxury ocean view villa on central Vancouver Island.
The Gales in Ladysmith is now showcasing its latest luxury show home by award-winning GNB Builders. This 3,000 sq. ft. Built Green® custom patio home offers the best in modern environmentally-friendly materials and construction techniques, offering a spectacular home in a spectacular location.
Situated overlooking the Georgia Strait on the east coast of Vancouver Island, The Gales patio homes and bungalows offer residents sweeping ocean and mountain views. Life at The Gales gives you the opportunity to enjoy outdoor pursuits year-round - from a walk on one of the many local beaches to leisurely strolls through pristine forest right at your back door. The town of Ladysmith provides everything you need to enjoy living in a small community. And the Nanaimo airport is only 10 minutes away, offering daily flights to Vancouver and Calgary.
For more information on this luxury patio home for sale, contact:
Phone: Keith Mazurenko, REALTOR® 1.866.315.0545
Location: Ladysmith, on Vancouver Island
Address: 410a 1st Ave, Ladysmith, BC V9G 1A9
Website: www.thegales.ca
Contact Us
Please note that this blog entry was published more than three months ago. Some details may be outdated.
Related Resources & Links