New Lakefront Vacation Homes for Sale at The Maples Resort at Sproat Lake
Posted: Jun 21, 2012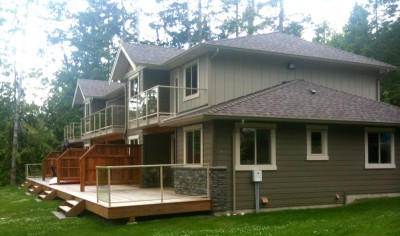 I visited The Maples Resort at Sproat Lake last weekend and I loved the lakefront setting that the offers easy access to the dock and wonderful views of Sproat Lake. Phase I of the new Westcoast style homes have been completed.
The Maples Resort at Sproat Lake offers new Vancouver Island waterfront vacation homes for sale at the popular Port Alberni recreation area of Sproat Lake. These newly built vacation homes are comfortably spaced around the five acre property near Port Alberni. Mature trees and landscaping, which makes extensive use of natural vegetation, provide privacy around the site.
Each new vacation home unit enjoys lake and mountain views, on this gently sloping property. Buildings are West Coast Contemporary style in earth tone colours with rock accents. Each home offers spacious, sunny decks with southern exposure.
Vacation home owners at The Maples Resort enjoy a large beach area and a 2,100 sq. ft. dock complete with a boat slip. Lake access is provided by roads and trails leading to the beach. This is a beautiful place to come and spend some vacation time, to enjoy the activities at the lake, or to spend time with your family and friends. If you are looking to own your own Vancouver Island vacation destination, be sure to visit The Maples Resort a Sproat Lake.
The Maples is a phased development of 24 strata titled water front units on Sproat Lake. Vacation homes at the Maples at Sproat Lake start at $349,900 for full ownership.
Please note that this blog entry was published more than three months ago. Some details may be outdated.
Related Resources & Links