New Homes And Lots Available in Phase 3A at The Ridge in Courtenay
Posted: Sep 08, 2019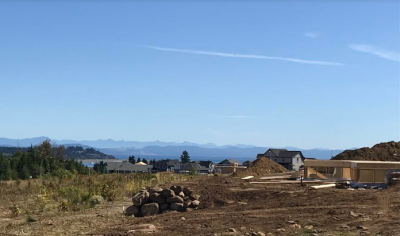 Phase 3A has brought 48 residential lots to the market at The Ridge, a popular neighbourhood in Courtenay. Phases 1 and 2 are sold out with more than 100 new homes now in the community. The preferred builders at The Ridge are working hard to keep up with demand, and currenlty have many new homes under construction for custom clients and as spec homes. With a broad a variety of floorplans, there are many distinctive homestyles to choose from at The Ridge.
Both rancher/bungalow and two-storey homes are popular at The Ridge, for retirees and young families, who want open space to entertain or spend time together, and enough privacy for guests or kids.
Homes with a walk-out basement are a popular option at The Ridge, as all lots are zoned to accommodate secondary suites. The basement can be finished to create extra living space for your family, or create a secondary suite that can be rented or occupied by extended family. A separate entrance can provide direct access to this area of the home.
Many of the new homes being built in this new phase at The Ridge will feature beautiful mountain and ocean views. You'll see the Mainland mountains, Comox Bay and the Comox Marina while you drive down the aptly-named Harbourview Boulevard, a wide, gently curved road that runs through Phase 3A. Lots on the southside of Harbourview Blvd. feature a forested park as a backdrop, providing natural green space for homeowners.
Contact these or their other preferred builders to find out more about their homes under construction:
Lawmar Contracting
Two new homes are under construction:
A 1,595 sq. ft. rancher is being built at 3309 Harbourview Blvd. Price: $669,900.
A large 2,980 sq. ft.home with a secondary suite is located at 3322 Harbourview Blvd. Price: $799,900.
For a tour, contact: Lawrie McIntyre, Lawmar Contracting
Phone: 250.338.7637 Email: lawrie@lawmar.ca
Coastal Custom Homes
A 1,551 sq. ft. rancher is under construction at 3409 Marygrove Crescent. Price: $670,000.
For more information, contact Dean Vershuur, Coastal Custom Homes
Phone: 250.465.2205 Email: dean@coastalcustomhomes.ca
Prices and availability of homes subject to change without notice.