New 3 Bedroom Homes at Woodcote Mews Offer Room For Family
Posted: Dec 21, 2011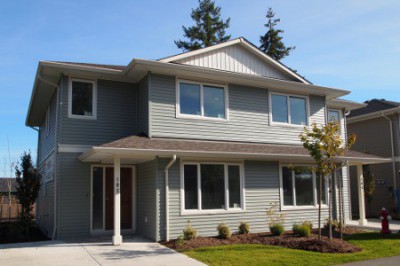 The new Courtenay duplexes at Woodcote Mews have been popular with young families, empty nesters, and those looking for a Vancouver Island vacation home.
These new Vancouver Island duplex homes feature a spacious 1,320 sq ft spread across two floors featuring three bedrooms and two bathrooms. Each unit includes a quality appliance package with refridgerator, stove, dishwasher, washer and dryer.
Centrally located in Courtenay, residents of Woodcote Mews are in walking distance of the vibrant downtown area, which features shopping, restaurants and offices. Woodcote Park is only a few steps away and schools are close by. Residents are only minutes from North Island College, Comox Valley Aquatic Centre, Crown Isle Golf Course, the Comox Valley Airport, and recreational facilities, including beaches, rivers and parks. These new Courtenay homes are priced at $211,900.
Please note that this blog entry was published more than three months ago. Some details may be outdated.
Related Resources & Links