Mortgage Rates Competitive for Vancouver and Vancouver Island Real Estate
Posted: Dec 14, 2009
Mortgage Centre Comox Valley has announced the following updated mortgage rates for Vancouver and Vancouver Island homes as of December 11, 2009.
1 Year Closed is 2.35% - 2 Year Closed is 2.95% - 3 Year Closed is 3.25%
5 Year Closed is 3.89%* Available for properties located in the Greater Vancouver or Victoria area. Best rate is 3.94% in all other areas.
7 Year Closed is 4.45% - 10 Year Closed is 5.30%
For more information, contact Gary Snider at
mbc@mortgagecentre.com
or at
www.mccv.ca

Please note that this blog entry was published more than three months ago. Some details may be outdated.
Vancouver Island real estate is just one click away, find your perfect property at
1

stView.ca
Advertise With Us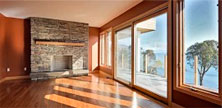 Builder? Real Estate Agent?
Advertise Your Real Estate Project. For more information regarding listing opportunities at 1stView.ca, view our advertising information or contact us.