Last Chance to Purchase Tickets to Outlook 2012
Posted: Nov 18, 2011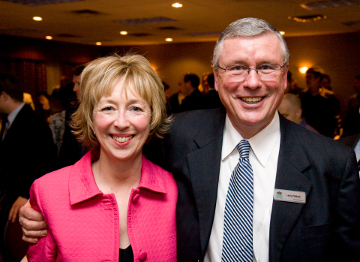 Only 35 tickets remain for 1stView's Outlook 2012, the 6th annual economic forecasting forum on Nov. 24, 2011. Outlook 2012, now 85 % sold out, will take a look at expected trends in the Vancouver Island construction and real estate markets, with a focus on the North Island.
The perennial sell out event will once again be held at the Florence Filberg Centre in Courtenay, and will feature presentations by four industry experts.
"We are excited to bring together business leaders, developers, trades people and others to network and hear industry insights from our panel of speakers," said Clarice Coty of 1stView.ca. "We've moved the event from January to November, to give attendees the opportunity to use the information presented to guide their business planning for 2012."
Keynote speaker Larry Pollock, President and CEO of Canadian Western Bank will address the "Local Perspective to Global Banking."
Pollock was a guest speaker at this event in 2009. Described by the Globe and Mail as "gregarious, and outspoken," the national paper says "Larry Pollock adds a dash of colour to the grey tones of the Canadian banking industry."
Additional featured speakers include: Travis Archibald, Senior Market Analyst for Canadian Mortgage and Housing Corporation, who will present a Vancouver Island Housing Market Update; as well as Greg Baynton, CEO of the Vancouver Island Construction Association and Shirley de Silva, CEO of the Comox Valley Airport.
Outlook 2012 is sponsored by Presley & Partners and Jackson & Associates. Tickets are $75, and include a networking session from 4-6 p.m., including a trade show, dinner, and presentations.
For more information, or to purchase tickets, visit www.1stView.ca, email tickets@1stView.ca or call 250.338.5466.
Please note that this blog entry was published more than three months ago. Some details may be outdated.
Related Resources & Links