Green Homes Deserve Green Roofs, Vancouver Island New Home Builder Says
Posted: Oct 17, 2011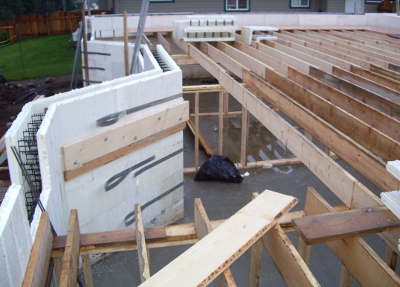 Nutmeg Homes, builders of custom Insulated Concrete Form (ICF) homes on Vancouver Island are now working to create green roofs for their already green homes. According to Nutmeg Homes, insulated concrete form systems provide the ultimate roof. The concrete wall and steel reinforcement transitions to the concrete roof deck and beam system. This style of building is the next step for Nutmeg Homes, creating a roof that is super insulated, indestructible, and can be used as a giant deck. Turning this roof system in to the ultimate eco roof a green roof is easy.
Green roofs are already being required by some provincial and municipal governments in commercial buildings. Nutmeg Homes is working with several specialists, ICF suppliers and green roof drain system companies to build the first ICF residential green roof in BC.
Benefits of green roof construction include: Conserving valuable commercial space that would otherwise be required to provide storm water runoff controls; shielding from ultraviolet radiation, and buffers temperature extremes, minimizing damage from the daily expansion & contraction of the roof materials; reducing energy costs; increasing roof life span dramatically; and increase real estate values.
Contact Nutmeg Homes for more information.
Please note that this blog entry was published more than three months ago. Some details may be outdated.
Related Resources & Links