Art Meyers, a Comox Valley Realtor With the Experience You Want in Today's Real Estate Market.
Posted: Mar 10, 2017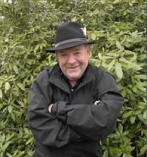 Today's Comox Valley real estate market has historically low inventory. A licensed, connected and experienced realtor can help you get the value for your home or raw land in today's market.
Art Meyers
, has been in the real estate business for 40 years and has won many awards due to his professionalism and his focus on getting the best value for the seller and finding the perfect home or rural property for the buyer. He has been through the ups and downs of the real estate cycle many times, and he is the realtor who can represent you whether you are buying or selling in the Comox Valley on beautiful Vancouver Island.
The average price of a home in the Comox Valley has gone up 26% from 2015 to end of 2016, an average of 2% per month. Art can help you keep your eyes focused on the changes in the market, so that you are looking out the front windshield on what the current price is, not looking in the rear window, looking at what a property sold for two or three months ago.
Art Meyers is the "go-to" experience realtor in the Comox Valley, covering the areas of Courtenay, Cumberland, Comox and the Comox Valley Regional District. Contact him today, he would be happy to meet with you!
Contact: Art Meyers at Royal LePage in the Comox Valley
Office:
250-334-3124
Please note that this blog entry was published more than three months ago. Some details may be outdated.
Related Resources & Links